Anela Muminovic has been at Francis NY Plastic Surgery (Kenneth R. Francis, MD) since 2005 and has been working in the plastic surgery field for over 20 years. Anela is a well-organized and detail-oriented individual, handling the tasks of this position with ease and professionalism. She is a truly proficient individual who works closely with Dr. Francis to ensure complete patient satisfaction.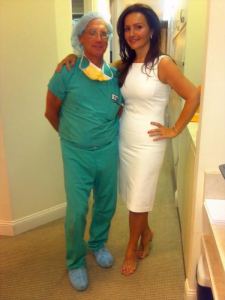 She performs many roles at Kenneth R. Francis, MD Plastic Surgery, including:
Office Manager
Patient Coordinator
Accounts Payable and Receivables
Anela lives in Manhattan with her husband and 3 beautiful daughters. She enjoys cooking, shopping, working out, being outdoors and traveling. She spends a lot of her free time with her family up in the country.
Sara Evangelista R.N., BSN is a Registered Nurse licensed in the state of NY and NJ. She graduated from Pennsylvania State University School of Nursing and also took part in the Nutritional Science Program in Rome, Italy.
Sara Evangelista has experience in sub-acute rehabilitation and also was a part of the Hackensack Medical Center Surgical-Trauma Intermediate Care Team, where she took courses and trained in multitude of areas ranging from telemetry to ethics to critical care. She also was in charge of the units monthly newsletter and was nominated for the Daisy Award.
As a member of the Association of preoperative Nurses, she joins Kenneth R. Francis, MD Plastic Surgery as the Operating Room nurse in their newly accredited Operating Room. She is a highly motivated and compassionate nurse that delivers exceptional patient care.
Lavinia Martinez ST, A.O.S, is a Surgical Technologist. She graduated from Mandl The College Of Allied Health, New York. Lavinia Martinez has over ten years of experience in Plastic Surgery and also was a part of the Lincoln Hospital where she trained on sterile and Aseptic technique in an Operating Room setting.
As a member of the Association of Surgical Technologist, she joins Kenneth R. Francis, MD as the Operating Room Technologist in their newly accredited Operating Room. She has a positive attitude and is always seeking ways to improve the lives of others.
Joan Dallal is a certified plastic surgical nurse specializing in skin care and rejuvenation of the face and body. She is a long-standing member of the Association of Plastic Surgical Nurses, with over two decades of experience and recognized nationally for her expertise. Her clientele ranges from former first ladies to Sports Illustrated swimsuit models.
In her opinion the simplest way to look and feel your best is achieved by peeling away the years. She utilizes the latest techniques in personal beauty enhancement. The treatments offered are safe, quick and require minimal to zero down time.
Dr. Martin Gotlieb is a board certified anesthesiologist for over 30 years. He practices in major institutions in New York. He specializes in general anesthesia and pain management.
He enjoys wind surfing and walking in Central Park. Dr. Gotlieb is one of the BEST anesthesiologists in New York City!
Permanent Makeup by Jackie
When she saw the damages that years of tanning bed causes, as well as what sunlight had actually done to her skin, Jackie's interest for skin treatment started. Over the years, she has tried out many types of methods you can possibly imagine in the look for everlasting elegance.
After seeing the significant results of derma planing, skin needling, and also irreversible make-up, Jackie decided to develop a skin treatment business concentrating on these areas. Among her biggest delights is having the ability to share her vital expertise of skin treatment with others. With her creative ability and also focus on information, Jackie will certainly aid you in turning around years of aging and also make you look your best.
Jackie is an accredited esthetician and also Qualified Irreversible Aesthetic Specialist (CPCP) by the Culture of Long-term Aesthetic Experts (SPCP). Jackie is an energetic participant of SPCP, fulfilling the greatest criteria for safety and security and also technological experience.