Tummy Tuck (Abdominoplasty)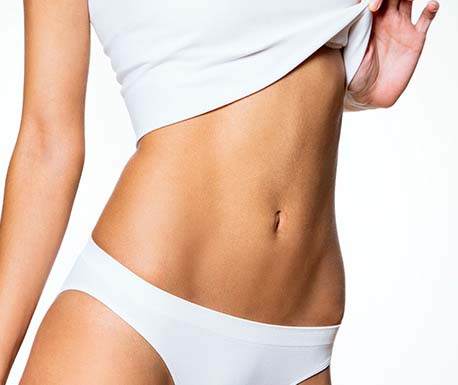 If you have a protruding abdomen, stretched out skin, and/or stretch marks of the mid-section, you may want to consider tummy tuck surgery ("abdominoplasty"). New York surgeon, Kenneth R. Francis, M.D., F.A.C.S. is a highly skilled tummy tuck specialist who will help you achieve your cosmetic goals.
With years of experience in performing facial rejuvenation, breast surgery, and body contouring procedures, our New York City tummy tuck surgeon is board certified by the American Board of Plastic Surgery (ABPS).
When choosing to undergo abdominoplasty with our NYC tummy tuck professional, Dr. Francis, you will be provided with exceptional care and the most up-to-date plastic surgery techniques.
For those who would like to have excess fat removed from the abdomen, as well as gain a tighter surrounding muscle, this type of body reshaping surgery may be an option for them. Women who have stretched abdominal muscle due to previous pregnancies can greatly benefit from abdominoplasty.
In addition, a good candidate for tummy tuck surgery is someone who is:
In good physical and psychological health
Realistic in his/her expectations and goals
A non-smoker or willing to quit for the duration of the surgery
Not currently pregnant or planning on future pregnancies
During a pre-operative visit with our Manhattan tummy tuck surgeon, the two of you will discuss your medical history, what results to expect, and if liposuction ("lipoplasty") would be a more appropriate procedure (depending on the condition of the operated area) or a complimentary surgery to be performed in combination with abdominoplasty.
Tummy tuck or abdominoplasty surgery is a surgical operation that is performed to improve the contours of the abdomen, waistline, and hips. The procedure typically targets the damages that are inflicted on the abdominal wall during the stretching of tissues and weight gain that occur with pregnancy but is sometimes performed in men as well. In its most complete form, it involves removal of excess fat and skin, tightening of the abdominal muscles with stitches and recreation of a nicer belly button.
There are several modifications of the operation that can be used to tailor the surgery to each individual's needs. For instance, if there is only loose skin with good muscle tone, a removal of skin only can be performed. The cost of the surgery can vary depending on the need for such modifications.
Tummy tuck what to expect?
After a tummy tuck, you can expect to have a slimmer, trimmer waistline, hips, and abdomen. Many women (and men) are able to confidently return to wearing tighter, more form fitting clothing and displaying their new and improved waistline look. The tummy tuck operation carries a very high satisfaction rate making it a very popular procedure.
Tummy tuck procedure steps
The steps to obtaining a beautifully enhanced and reshaped abdomen through tummy tuck surgery begin with your decision to seek consultation with an American Board of Plastic Surgery board certified plastic surgeon. In my practice, the first consultation includes a discussion of your goals and expectations, a physical examination to determine your actual needs and the feasibility of the surgery for your particular situation. Once you have made a decision to schedule surgery and are deemed a suitable candidate you will return for a second, or, pre-operative visit.
During this visit final plans are designed, measurements and photographs are obtained and the surgery is scheduled. Instructions for the days immediately preceding the surgery are also given, including what to eat, medications to take or discontinue, blood tests to obtain and whether medical clearance is required or not.
Tummy tuck candidates
The typical candidates for tummy tuck surgery are women that have been through one or more pregnancies and, as a result, have any combination of extra skin, stretch marks, excess retained fat and muscle weakening or separation. These conditions are the result of the tissue stretching and weight gain that occurs during pregnancy. Of course, Tummy Tuck surgery is not limited to these patients. There are many others, including men, who have not gone through pregnancy but may have extra skin, stretch marks or muscle separation after significant weight loss or weight gain.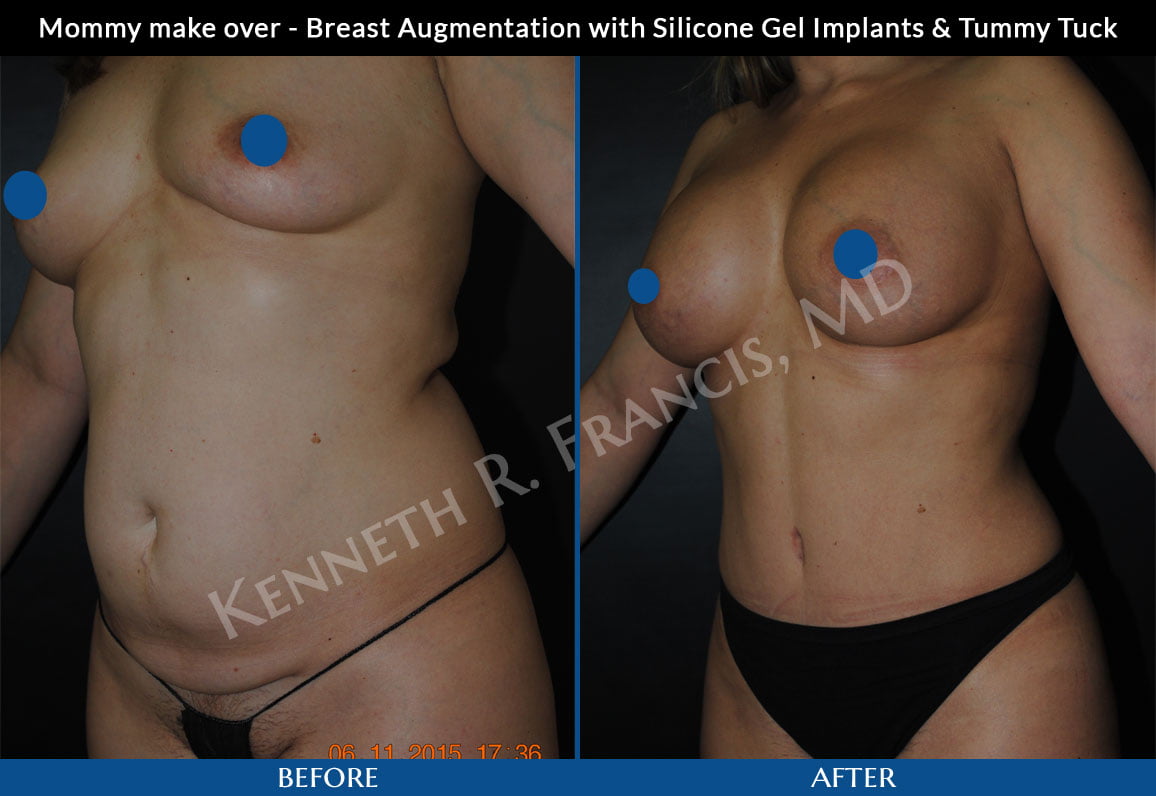 Tummy tuck recovery
Recovery after full (complete) tummy tuck surgery has been likened to recovery from C-section surgery. Walking is encouraged and expected on the same day of surgery. There is discomfort for the first 5-7 days, which is easily tolerated with the use of pain medication. Sometimes drains are placed during the surgery. These may stay in place for 7-10 days on average. My patients are permitted to shower within the first week following surgery, even with drains in place. Avoidance of strenuous exercise or lifting of items greater than 5 pounds is not recommended before 6 weeks if the muscles have been tightened. Most patients in my practice are cleared to begin light walking for exercise at the 3-4 week mark. Driving can usually resume at about 2 weeks following surgery, as long as no narcotic pain medications are still being used.
Tummy tuck results
Results of tummy tuck surgery are almost universally satisfying. The improvement in the contour of the abdomen, hips, and waistline far outweighs the scars that are required to achieve the enhancement. Many women find that they are capable of returning to the use of a bikini on the beach.
Tummy tuck risks and safety
Although considered a very safe operation, as with any surgery, no matter how minor, tummy tuck surgery carries some risks. These may range from general risks that can occur with any operation, such as bleeding, infection, healing problems, poor scarring, and blood clots to risks more specific to Tummy Tuck, such as irregularities or asymmetries in the scar, belly button issues and stretching or breaking of the muscle tightening stitches. Of course, smoking increases the risks of any surgery across the board and should be discontinued completely
Preparing for tummy tuck surgery
There is no specific preparation for tummy tuck surgery. Smoking cessation and a healthy diet should be observed to optimize the results and minimize the risks. Obesity is NOT an indication for tummy tuck surgery and being close to expected body weight will maximize the results.
Tummy tuck post-op
After a tummy tuck surgery you will be expected to walk almost immediately. This helps to prevent blood clots from developing. You will also be placed in a compression garment of some type, usually in the form of an abdominal binder. You should have a loved one or friend stay with you for the first day or two after tummy tuck. The nurse will give instructions for care of the drains to you and your caretaker. Your dressings and bandages will remain in place until your first visit back to the office. Return visits to the office usually occur within 4-5 days, one week following that, two weeks later, 6 weeks, 3 months, 6 months and 1 year after surgery.
Your tummy tuck consultation: "what to discuss"
Communication with your chosen American Board of Plastic Surgery board certified plastic surgeon is essential to receiving a result that is consistent with your expectations and goals. Your surgeon will likely guide most of the discussion, but be sure to ask questions such as, "Am I a good candidate?, What can I expect as a result?, How many tummy tucks have you performed?, What is the scarring like?, Are you American Board of Plastic Surgery certified?, What is the recovery like and when can I return to work?"
Choose a tummy tuck surgeon you can trust
Plastic surgeons certified by the American Board of Plastic Surgery have been through rigorous training and an extensive examination process to receive the certification that ensures that you are in trustworthy hands for your planned Tummy Tuck surgery. No consideration should be given to any surgeon without these credentials.
To see the results featuring some of our New York City tummy tuck patients, feel free to browse our before and after plastic surgery photos.
Contact us today to schedule your tummy tuck free consultation (212) 226-0677 or click here to inquire now
More Tummy Tuck before & after photos

Learn more about our tummy tuck (abdominoplasty) before & after pictures, please call us at (212) 226-0677 or
submit your request for a FREE consultation with Dr. Kenneth R. Francis
Learn more about tummy tuck nyc. tummy tuck nyc surgery, tummy tuck nyc cost, tummy tuck nyc recovery time, tummy tuck nyc cost and much more